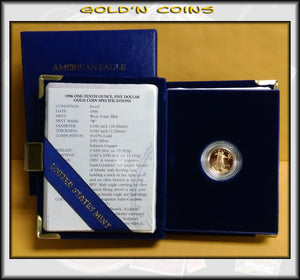 1996 Tenth Ounce Proof Gold American Eagle Original Government Packaging
Regular price $300.00 Sale
Gem Proof 1/10-ounce Gold American Eagle Bullion/Collector coin.
Complete with all original U.S. Mint packaging and certificate of authenticity. The fractional Proof Gold American Eagles have been a long-time favorite with collectors. Great detail and cameo appearance enhance the wonderful design taken from the famous $20 Gold Double Eagle designed by Augustus St. Gaudens.
Previously owned, outside packaging may show very slight signs of handling.
USMint sells at: https://catalog.usmint.gov/american-eagle-2018-one-tenth-ounce-gold-proof-coin-18EE.html?cgid=null&q=gold%2520proof&navid=search#q=gold%2520proof&start=1